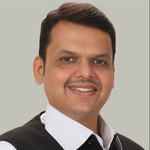 "The government has been involved in a number of initiatives. Corporate India, via its CSR activities, has also been driving multiple activities. Now, all our efforts can converge to maximize impact and really transform the State's villages. That's the concept."
Hon. Devendra Fadnavis, Chief Minister, Maharashtra

"This is a partnership that includes the village itself. Some of the best ideas and thoughts in terms of what can be done in the village come from villagers themselves. This Mission will ensure that they are not ignored."
Ratan Tata, Chairman, Tata Trusts

"As someone who has been involved in various campaigns- be it Swachh Bharat, Hepatitis B or tiger preservation — I see a lot of connectivity in this transformative vision."
Amitabh Bachchan, Actor and Padma Vibhushan

"We are excited by the passion that the Hon CM and his team have shown. This partnership with the corporate sector could create
a prototype not only for Maharashtra's villages, but all of India's villages. "
Anand Mahindra, CMD, Mahindra Group

"I commit to join this noble endeavor that aims to reach the most vulnerable villages of Maharashtra."
Deepak Parekh , Chairman, HDFC Limited

"This is a revolutionary Mission & we are excited to be a part of it. We commit our resources and passion to ensure that this project is a success. We are present in most of the State's backward districts and will be glad to take this further."
Nikhil Meswani, Executive Director, Reliance Industries Limited

"This Mission provides us with an opportunity to come together on one platform, and I have no doubt that the impact will be much greater. We stand fully committed. We will participate and contribute to this cause, and also share our learning."
Ravneet Gill, CEO, Deutsche Bank

"This is a fantastic initiative. I believe one plus one will make not two, but eleven. I commit part of our CSR towards this initiative of 1000 villages. Our entire team is very excited about this concept."
Sajjan Jindal , CMD, JSW Group

"We have developed a lot of expertise and we will place it completely at the disposal of this team. We will pick up a few of the 1000 villages and align our initiatives to those villages."
Sanjeev Mehta ,CEO, Hindustan Unilever

"We are excited to work with the Government of Maharashtra in this unique initiative. We look forward tobring value to the project and build resilient communities."
Shikha Sharma ,MD and CEO, Axis Bank

"An integrated effort to holistically transform villages is the right approach. The Rural Development Fellows will be key to mentoring the community."
Zarina Screwvala , Managing Trustee, Swades Foundation

"Maharashtra Village Social Transformation are trying to transform villages of India. I am very happy to be able to provide able assistance from Shri. Pardeshi and Wildlife Conservation Trust is working in villages near the forest area. We have to save the forest and benefit the local community living around it. How they be better educated; how they can get jobs; and that is what we want to do over there."
Hemendra Kothari , WCT

"India will prosper only if its villages are transformed and I would like to compliment the Chief Minister of Maharashtra and Maharashtra Government for this amazing initiative which is aimed at creating 100 model villages which will then become beacons of excellence for the other villages in the state and hopefully in the country to follow. This truly a very ambitious project and already in the early days it is showing great signs of success and its privilege for me and my wife to be part of this movement."
Amit Chandra , ATE Foundation

"Working together I think is a win-win and it's a great idea to work in villages and ensure development. Best of luck to VSTF."
R. Jhunjhunwala , RARE Foundation